On April 1, 2019, the standard for connection of luminaires change across Europe. Question is: Are you prepared?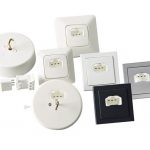 Have you decided how you will adopt to the new requirements for connections? Have you considered how the new standard will change the perception of who you are, what your brand should communicate, what quality your customers will experience and how your products will fit with the new devices as the new standard means.
It might feel like a long time before the new standard is here. But do you know? Time flies.
CableCup products are already prepared for the new standard. They fit with the hooks and they cover the plates. Contact us!
>> Read more about the standard (English)